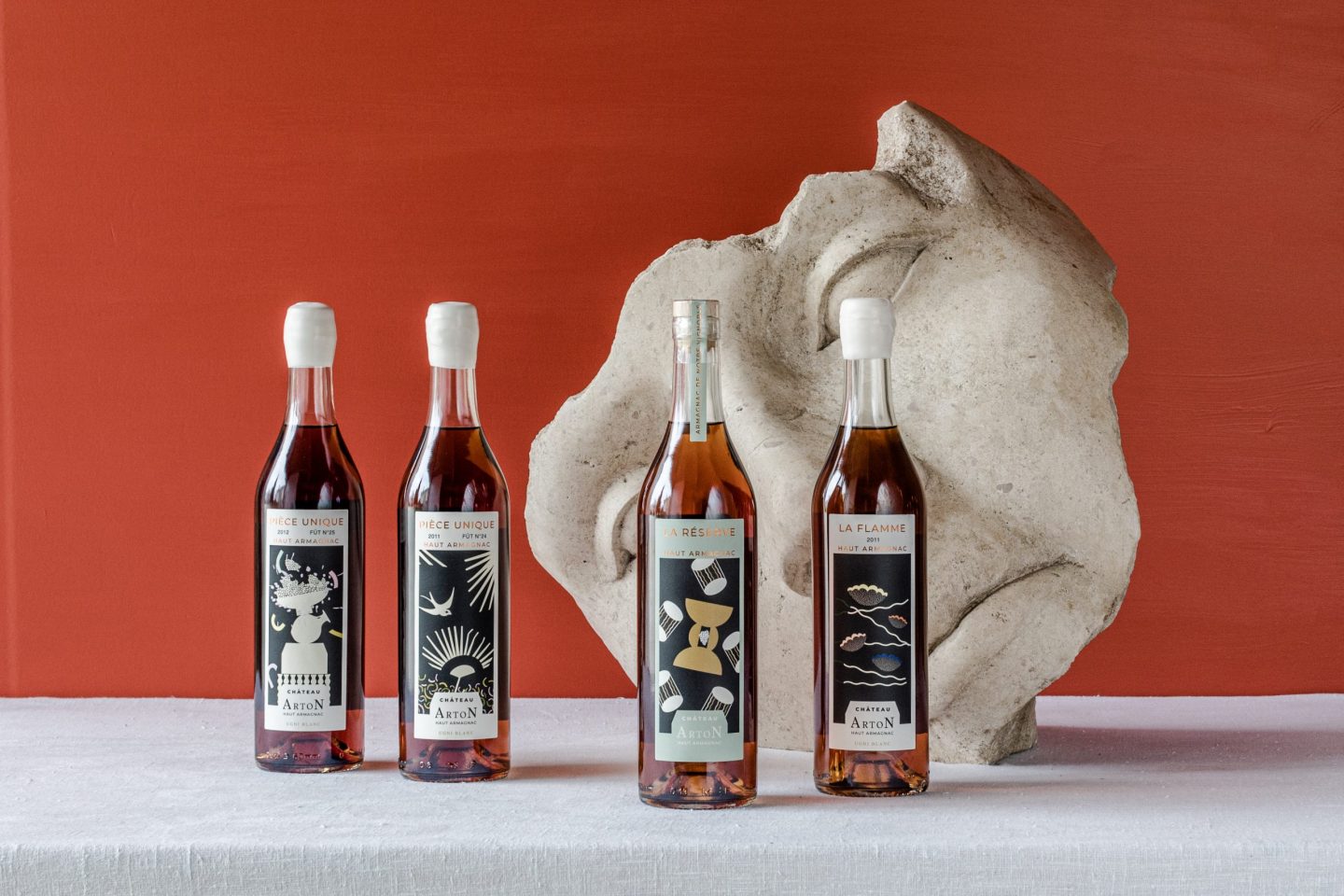 Armagnacs, typology and qualities
The quality of an Armagnac is an alchemy, a kind of science
and
magic, that does not owe all of its exceptional qualities to its age. The key to exceptional Armagnac is the quality of the eau-de-vie, the french term for spirit meaning "water of life."  Striving for excellence means focusing on every detail and leaving as little as possible to accident.  But, like in all alchemy, there is always a little room left for magic.
WHAT AFFECTS THE BALANCE OF A BARREL?
The quality of a cask is based on a combination of factors related to the design of the barrel, the spirit itself, and the properties of the cellar,  all of which are orchestrated by the viticultural know-how of the oenologist, the lead winemaker. Because the same vintage can give multiple different qualities, it takes the expertise of the oenologist to guide each cask to the best expression of itself, in hope of achieving this perfect balance.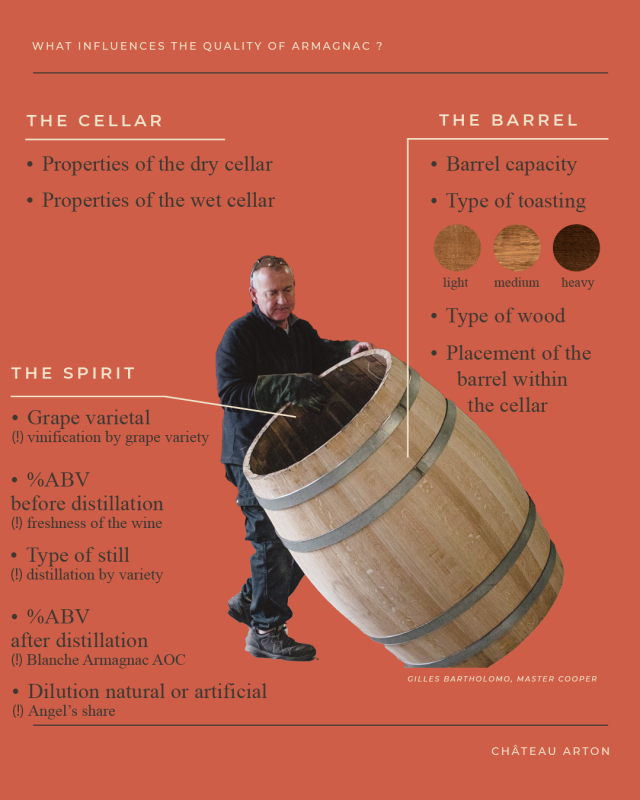 TYPOLOGY OF ARMAGNACS
There are 4 types of Armagnacs, one White and three Aged.
La Blanche is an Armagnac bottled without having been aged in wood. It can be vintage (like at Château Arton) or not.
The other three types of Armagnac are aged in oak barrels from which they derive their amber color. These are Non-vintage Blends, Vintage Blends, and Single Barrels. It should be noted that most vintages sold commercially are blends, either vintage or not. The single cask is rare, and typically reserved for only truly exceptional Armagnac. 
It should also be remembered that terms such as VS, VSOP, XO, etc are borrowed from Cognac for use in blends destined for commercial markets.  These terms do not reflect the unique history of Armagnac.
Each Armagnac house cultivates its own style and thus determines the structure of its offerings.
THE CHATEAU ARTON COLLECTION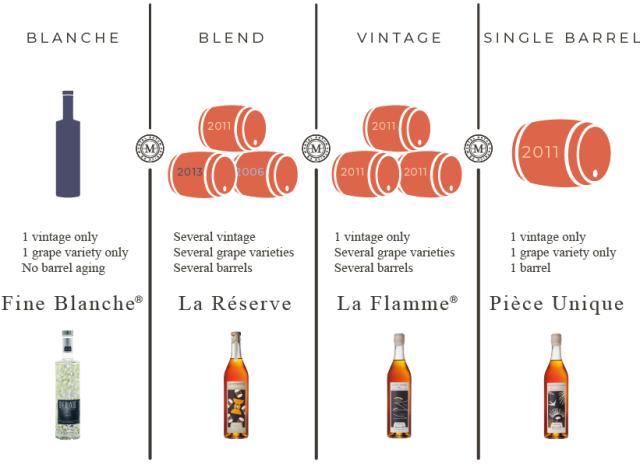 Château Arton is a rare Armagnac House where everything is done at the estate, from planting the vines to bottling the finished product.  At each stage, our oenologist makes sure to put his viticultural know-how at the service of our quest for the "unique barrel", this exceptional barrel stands out from all other Armagnacs for its excellence. Our Single Cask Armagnacs are these rare and perfect Armagnacs.
Throughout the aging, the oenologist watches each barrel closely, aerating it, and transfers the liquid from a new barrel to an neutral barrel to control the intensity of the wood influence. Then he moves the Armagnac from one cellar to another to control the pace of the evaporation, or Angel's Share. He tastes each barrel and, judging by his nose, makes his adjustments, and guides each barrel individually, with the excellence of the Single Barrel in mind. But this is rare! While the most exceptional casks are selected for our Single Barrel Armagnacs, most of the barrels will be blended after 6 or 10 years of aging to form our other releases.
Once bottled in glass, the Armagnac no longer ages, the glass and the wax stopper preserves the aromas.
The delicate interplay of blends makes it possible to shape the soul of La Réserve, our signature Armagnac, giving it all its aromatic richness, and to ensure this quality year after year, vintage to vintage. La Réserve is a blend of eaux-de-vie from several barrels, several grape varieties, and several vintages, the youngest of which has aged at least 6 years in an oak barrel.
Our Armagnac La Flamme® is a vintage, the "great second" of Château Arton. From a blend of excellent barrels, and different grape varieties all distilled in the same year. Aged for 10 years in the same rigorous cask program as our single cask Armagnac, La Flamme® is an Armagnac that expresses the character of the vintage. It offers a more familiar and approachable interpretation of the year than the Single Cask.
Our Single Cask vintages are the exceptional expression of a year. Made without blending, they come from a single barrel, a single vintage, and a single grape variety. Their perfect balance requires no blending, and they are released as pure representations of the vintage and the estate. 
Our commitment to carry out each stage of production at the estate gives us the possibility of selecting one or two exceptional barrels for each vintage, barrels that we will have succeeded in leading to excellence. Each Single Cask is distinct, characterized by the richness of its aromas, an incomparable flavor that reflects its year, and showcases a new and original interpretation of our terroir.
Since the first distillation of Château Arton at the estate in 2001, we have only obtained one or two Single Casks per year. Their rarity betrays our requirement: the Single Cask is not a given. Some years, there were no barrels of sufficient quality to release. Thanks to our viticultural commitments, in particular, the conversion of our vineyard to biodynamic and permaculture, we manage year after year to refine the quality of our product at every step.
Our Single Cask and La Flamme® vintages honor the living aspect of distilled wine, a specificity specific to Gascon eau-de-vie which underlines the unique character of a year and a terroir. After all, eau-de-vie means "Water of Life,' so it must be a living and vibrant reflection of Château Arton.
A NEW LOOK AT GASCONNE EAU-DE-VIE
Château Arton's Armagnacs speak of our audacity to believe in the forgotten quality of Haut-Armagnac and the audacity to plant our vines, to produce our wines and our Armagnacs to  our unparalleled standards for excellence. The key is our freedom in being grower-producers, being able to shape from start to finish an Armagnac in our own image.
For 30 years, Patrick de Montal has seen Armagnac as part of the culture of wine, considering it as a living spirit, the only one that can truly ennoble with age. This unique quality led him to consider the Single Cask vintage as the most accomplished expression of Armagnac, and led him to develop a "great second" bottling, in the same way as the grand crus classés of Bordeaux. His daring approach comes from a true, original philosophy of Gascon eau-de-vie.