How to enjoy our Armagnacs
Taking the time to savor an Armagnac is to take a voyage to Gascony, a land rich in history and steeped in tradition. A landscape of rolling hills dappled with shades of gold, of villages with evocative names that recall the exuberant moxie of Alexandre Dumas's The Three Musketeers.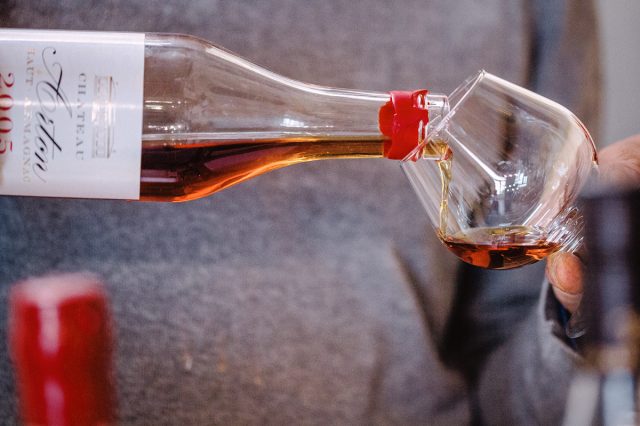 We recommend opening the bottle of Chateau Arton 20 minutes prior to serving, in order to allow the aromas to bloom and the fragrances to awaken.
The glass chosen also has its importance.  A bowl or tulip glass shape is the most adapted to Armagnac because they both concentrate the aromas.  Liqueur glasses can also be used. Serve Armagnac neat, at room temperature. 
Before tasting, take the time to admire the amber robe of Armagnac in shades that range from pale gold to dark copper depending on its age.  
Then inhale its aromas, but don't put your nose in the glass! Be sure to keep some distance, a few centimeters or so above the glass will do.   
Finally, take a sip and keep the Armagnac in your mouth for a bit before swallowing.  Take the time to awaken the memories it provokes. Then discover the fruit notes (quince, grape and plum), the florals (vine blossom and linden), the woody notes (vanille, spices and grilled meats), and the rancio (dried fruits, nuts, hazelnuts).  The first taste is smooth, awakened by the aromatic richness of the Armagnac, its power. At the bottom of the glass you will find the quintessential flavors of prunes, spices and chocolate, an aromatic palette that expresses the complexity of the Armagnac.  
Generous by nature, Armagnac is made for sharing.  It is the sociability dear to the hearts of the Gascony people.  Even though it can be enjoyed as an apéritif, it is best appreciated at the end of a meal.  It pairs well with coffee or a Cuban or Dominican cigar, as the flavors of cocoa, honey and black pepper enhance its aromas.
Flavor pairings
Our Armagnacs enhance the richness of the culinary traditions of Gascony: foie gras, chicken stew, duck breast.  They marry particularly well with chocolate cake, almonds and dried fruits, nut tarts, or orange macarons.